We're so excited to share that Yoga Outreach's website is now more accessible for people with visual, cognitive, and motor impairments. Our new plugin, created by AccessiBe, uses AI (artificial intelligence) to make it easier for people to interact with our content.  
How do you use the accessibility features?
In the lower left corner of our website, you'll notice an orange icon with a person symbol. If you're visiting our site with a screen reader, your device will tell you about the icon.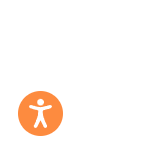 Click on the icon to see a menu of profiles. You can choose:
Seizure safe

Visually impaired

Cognitive disability

ADHD Friendly

Blind Users

Keyboard navigation (Motor)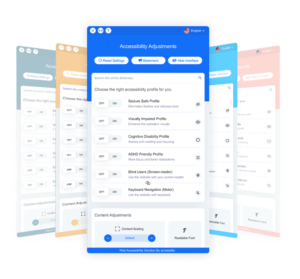 How does it help?
Each profile has a selection of cool features that makes it easier for people to interact with the content. 
Blind Users
For example, if a blind person using a screen reader visits a website without accessibility add-ons, they may hear repeatedly, "Link. Link. Link." as they try to navigate the page.   

With AccessiBe's plug-in, they hear, "Facebook link Icon. Twitter link icon. Instagram link icon." 
ADHD Friendly
Choose ADHD-friendly as your profile, and you'll get a horizontal spotlight that helps you focus on one element of the page at a time. 
Why does our website need to be more accessible?
Because it's the right thing to do! 
More than 6 million Canadians over age 15 identify as having a disability. We believe all of them deserve access to information and opportunities about how Yoga supports healing. 
(Of course, they also deserve to enjoy silly memes, online shopping, and job postings, too.)
Most YO Classes and Trainings are Online
We've always tried to make our classes more physically accessible by bringing them directly to the facilities where our students are already accessing services. 
But in the last two years, the pandemic has driven most of our classes and trainings online. That's supported access in one way. Students and teachers in remote areas and other countries don't need to travel to Vancouver to participate. 
When our way of serving community shifts online, we need to make sure our website is as accessible as our in-person classes. 
What are the rules around accessibility and websites?
Some countries have made accessible websites the law, but most haven't. 
In the U.S., businesses have to ensure their websites comply with the Americans with Disabilities Act Standards for Accessible Design (ADA). 
Canada introduced the Accessible Canada Act in 2017. It promises to make Canada barrier-free by 2040 – still a ways off. And it only applies to sectors within the federal jurisdiction, such as banking, telecommunications, transportation industries and the Government of Canada itself. 
Ontario is stricter, requiring all businesses and nonprofits with more than 50 employees to make their websites accessible. 
BC introduced the Accessible BC Act in June 2021. It promises to create regulations around websites, starting with the government. As of writing, there are no deadlines or specifics about what the regulations will be. 
What counts as an accessible website?
Good question. With very few official regulations to follow, web developers created their own guidelines. 
The World Wide Web Consortium (W3C) created a document called the Website Accessible Content Guidelines (WAGC) in 1994 at the Massachusetts Institute of Technology (MIT).
When countries or regions create regulations (including Canada), they're typically based on this document. 
How much does it cost to make a website accessible?
Unfortunately, it can be pretty expensive. Making a website completely accessible could cost thousands more in development costs if a designer is programming it from scratch.
It's not a big stretch for large companies. But disabled people would still be unable to access the websites for all the billions of small businesses, solo entrepreneurs, and nonprofits that can't afford these costs.
Is accessibility affordable?
As a nonprofit that strives to make wellness accessible, we're also concerned about website accessibility. In practice, we use high-contrast colours, and large, clear fonts, and provide alt-text on all our images.  
Pretty good. But not astounding. 
That's why we think this accessibility plug-in is so cool. All we had to do was add the code to our existing website, and voila! It works all by itself. 
Is a plug-in as good as a custom-designed solution?
Nope. 
But as they say, perfect is the enemy of good. If smaller businesses and nonprofits can't afford a perfect solution, they can, at least, afford a pretty good one. 
If you have a chance to try out the plug-in, please send us an email. We'd love to know your experience.
What else is Yoga Outreach doing about accessibility?
Closed captioning on Zoom 
We recently added closed captioning to all our events and trainings on Zoom. It automatically shows text on the screen to accompany the facilitator's words. 
Demonstrations
Teachers continue to demonstrate all forms at the front of the class, rather than just offering verbal cues. 
Chair Yoga Training and Modifications
All of our trainings offer teachers the opportunity to practice designing chair Yoga sequences, and modifications for different abilities. 
Our YOCP Yoga Asana module is completely geared toward teaching accessible yoga. We use Accessible Yoga by Jivana Heyman as our resource manual. This module is taught by Ariel Pavic, who has experience working with the disability self-advocacy community.
Learn more about our trainings here. 
A "little more accessible" aligns with our values
Being student-centered is at the heart of what we do. We believe in observing where people are at, meeting them there, and designing classes around their strengths.
We've applied the same guideline to website accessibility. Adding a widget to our website isn't a perfect solution. But considering our budget and limited staff hours, the plugin meets us where we are at, and pushes us a little further down the road toward accessibility. 
We're proud to be a little more accessible this year, and looking forward to becoming more accessible in years to come.  
If you have a chance, click on the icon in the lower left and tell us what you think.