The final straw in Harmeet Kaur Mann's online yoga therapy class was when the First Nations women had to console crying white students about the discovery of 215 unmarked Indigenous children's graves. If anything, it's the Indigenous women who need comforting, she thought. They need to support BIPOC students (students who are Black, Indigenous or People of Colour).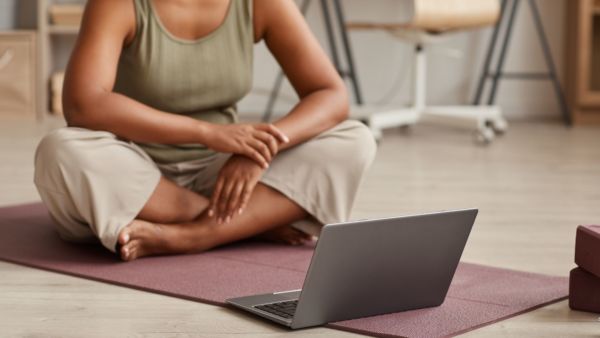 Emotional labour interrupts learning
Almost every class, Harmeet had had to point out that a white student's comment was hurtful, or had missed the point. Teachers thanked her privately for being brave enough to come forward. Speaking up came naturally for Harmeet who had been an activist for years, organizing events to protest systemic injustice. But it was also exhausting. Often she wished she could just be a student, and focus only on the information she needed to learn.
In a way, this experience echoed Harmeet's earliest experience in the education system. She grew up in a small town in northern BC, the daughter of immigrants from the Punjab region of India. There were only three or four South Asian families in town. At home, her father spoke in Punjabi and her mother spoke entirely in English. Harmeet was fluent in both.
But, she says, when she started elementary school she was placed in an ESL class, presumably because of the way she looked.
"It's planting seeds in kids that they aren't enough because they look a certain way."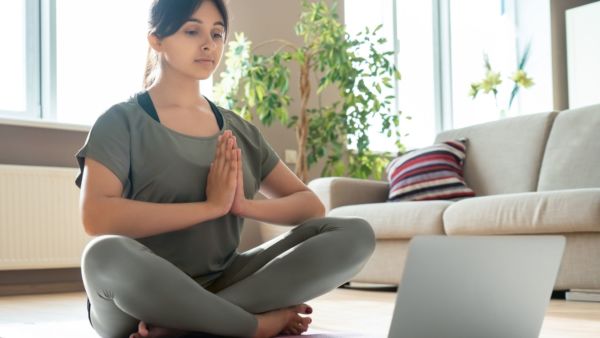 Asking Teachers to Support BIPOC Students
So when Harmeet witnessed white women taking attention in a conversation about the deaths of First Nations children, she knew it wasn't the result of isolated misjudgement. Micro-aggressions – subtle instances of white people making harmful or racist statements – happened nearly every day. Not just in this yoga therapy class, but in all educational spaces Harmeet had attended.
"I went to my teachers and said there needs to be some kind of role for BI & PoC (Black, Indigenous and People of Colour) students to have a touch person that they can go to and talk about micro-aggressions or harms that come up in class. And that's exactly what this role is, so I manifested it!"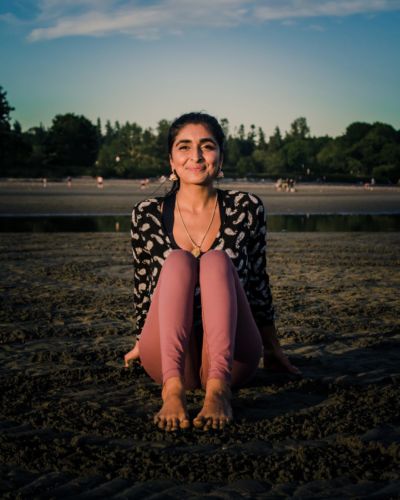 Creating a Student Liaison role at Yoga Outreach
The role Harmeet manifested is that of Student Liaison supporting BI & PoC participants at Yoga Outreach, a nonprofit organization that brings yoga to prisons and treatment facilities, and that also offers trauma-informed yoga teacher trainings.
Harmeet attends all the yoga teacher training classes with the students. Her goal is to interrupt any harm inadvertently coming from white facilitators or students, so that BI & PoC students can fully focus on learning. BIPOC students comprised 60% of the last Yoga Outreach Certification™ Program cohort.
Sometimes, she unmutes her microphone and asks for clarification in the moment. Other times she sends a private message to see if students want support. Not everyone does.
"Part of the role is empowering students to know what they need to feel supported. I'm learning to pause and ask myself, Is it time for me to unmute myself and say, 'Can you go over that again?' Or do I leave that to them? The answer is going to be different for every single student. I've learned to take three breaths before I act. Whether that's sending a message or speaking up."
Another aspect of the role is supporting students to complete the work to graduate.
"The largest part is helping students keep on top of their homework and their practicum. I act as a bridge between the students and the teachers if something doesn't make sense, if they need extensions, or don't feel comfortable with the practicum for some reason."
Why do yoga programs need to support BIPOC students?
When a single group makes up the majority of teachers and students, they can fall into a habit of assuming that their experience is common to everyone. In many yoga spaces, white teachers and students make up the majority.
BI & PoC students can feel like their experience – which may be different – doesn't count. It's hard to speak out and feel like the one going against the grain.
At another organization, Harmeet recalls hearing two white classmates questioning the need to make yoga spaces safer.
"They were laughing saying, 'Well I don't feel unsafe.' Which was really hurtful because I don't feel safe – to hear white people laughing in a white dominant space about my experience being invalid."
Harmeet adds, "If you don't experience living in a body of Colour, you might make a comment that you don't mean to fall in a harmful way but it does. Unless you really think about things before you say them, they can feel unsafe."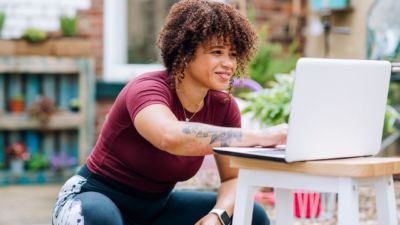 How Does a Student Liaison support BIPOC students?
Harmeet explains that it's easier for BI & PoC students to talk to another racialized person because they don't have to start at zero, explaining why an innocent comment made with good intentions feels "heavy on their heart."
"Somebody's there that understands "why" without you having to explain," says Harmeet. "You can just say this happened, and I'm already here for you."
Is it awkward being the one who calls out harm?
Harmeet confirms that her friends and family were apprehensive about her taking on this role. After all, there are many examples of white people not coping well with feedback.
"I felt shaky at the very beginning. But as time went on, I felt more and more comfortable sharing what I observed. I'm usually able to see both perspectives because I've been the student and I've also been the teacher."
Harmeet adds, "I'm not telling everyone everything they're doing wrong but presenting opportunities for us all to learn. And I'm grateful to be in an organization that puts its money where its mouth is."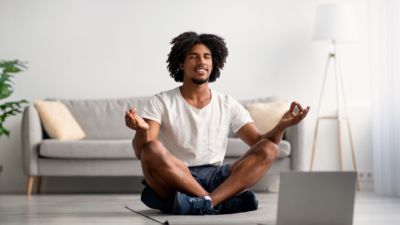 Supporting BIPOC Students Shows Positive Results
Creating the role of Student Liaison was essential. And now that students have experienced seven months of Harmeet's support, they've shared their feedback. Read some of their comments below.
The Power of Representation

Beyond the logistical support that she provides on a consistent basis, Harmeet's intrinsic warmth, knowledge and willingness to advocate for myself and other BIPOC students is such a necessary and integral part in my ability to flourish throughout my training so far. My hope is that future BIPOC students continue to have her in this role. She is one of the main reasons that I have found this training so transformative and her presence is such a salient example of the power of representation. 

Tech Outreach

I am a First Nations- Métis student living in another province and I'm not very technologically savvy. Harmeet has been patient with me in her weekly email or telephone outreach. I can call her any time I need assistance. There are a number of topics that Harmeet helped BIPOC students integrate and understand, ensuring all voices within the program are heard, understood and integrated.  Harmeet helps by attending classes and sharing her knowledge of yoga practice and asking questions in a gentle way that would not otherwise be addressed .  Outreach is during and between classes to ensure that the pace is good for everyone and the 8 limbs of yoga are studied and honoured based on the different cultural and personal backgrounds we have within the group.  As a result there is a great deal of cohesiveness within the BIPOC group and within the student body in general. 

Giving Us A Voice

I am more than half way through my 200 hour teacher training with Yoga Outreach and I am so grateful to have Harmeet there as a person I can reach out to when I need support. Throughout this journey she has been there for all of us, speaking up for when needed and giving us a voice. Thank you for being there for us, Harmeet! 

Ensuring BIPOC Students are Seen & Heard

Harmeet is incredibly compassionate and wise in her delicate attention to detail when assisting BIPOC support. I have on numerous occasions felt deeply moved by her embodiment of yogic principles. Her heartfelt dedication to ensuring BIPOC students are seen, heard, and supported is an invaluable asset to the Yoga Outreach Certification Program. Huy ch q'a siem (thank you respected one) dear Harmeet for being a part of my journey to discovering yoga through a de-colonial lens.
Take a Workshop with Harmeet
Harmeet Kaur Mann is leading a workshop on Reclaiming Joy  that would be particularly great for activists and others feeling burnt out in the face of systemic injustice